Configuring Amarok
On first start, some basic configuration is done; see also Quick Start Guide: Getting Started. But there is more under the hood.
To access the Configuration Menu, go to Settings → Configure Amarok... and see the following dialog: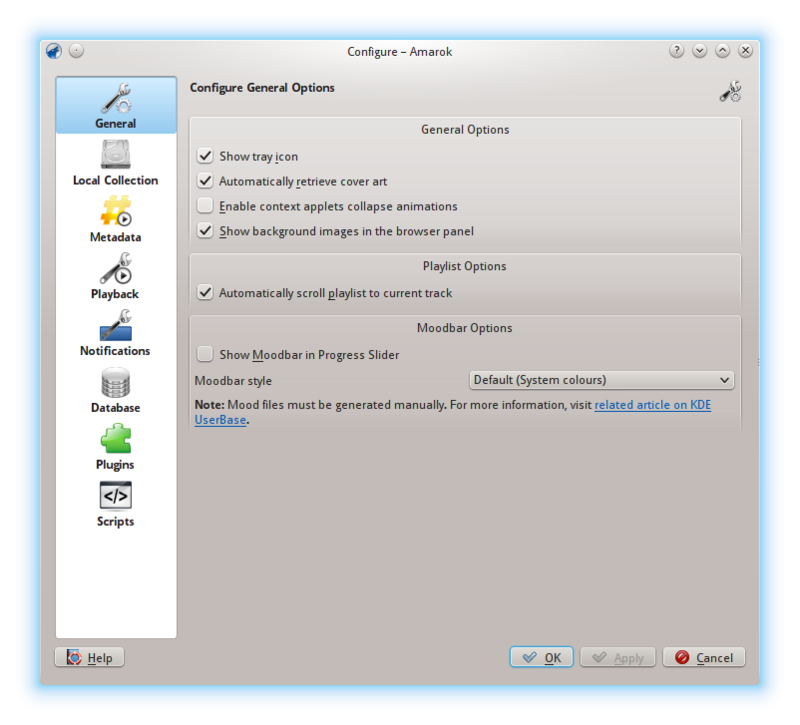 In the screenshot above, see some General Options you can set. Depending on the distribution, the default settings can vary. When hovering over the options with the mouse pointer, a tooltip will show to explain the individual settings.
General options:
| Option | Tooltip |
| --- | --- |
| Show tray icon | Check to enable the Amarok system tray icon. |
| Automatically retrieve cover art | Check to enable the automatic retrieval of cover art from the internet. |
| Enable context applets collapse animations | Check to enable animations when context applets collapse. |
| Automatically scroll playlist to current track | Check to make the playlist scroll so the current track is always visible. |
| Show Moodbar in progress slider | The Moodbar makes it possible to navigate in your music visually. Please note that this feature requires the external Moodbar Generator tool, or a script. |
| Moodbar style | Choose the mood display style. |
When you enable the Moodbar, be aware of the following requirements: the Moodbar will only display if your tracks have been tagged with moods. For more about the Moodbar, refer to: Moodbar.