Metadata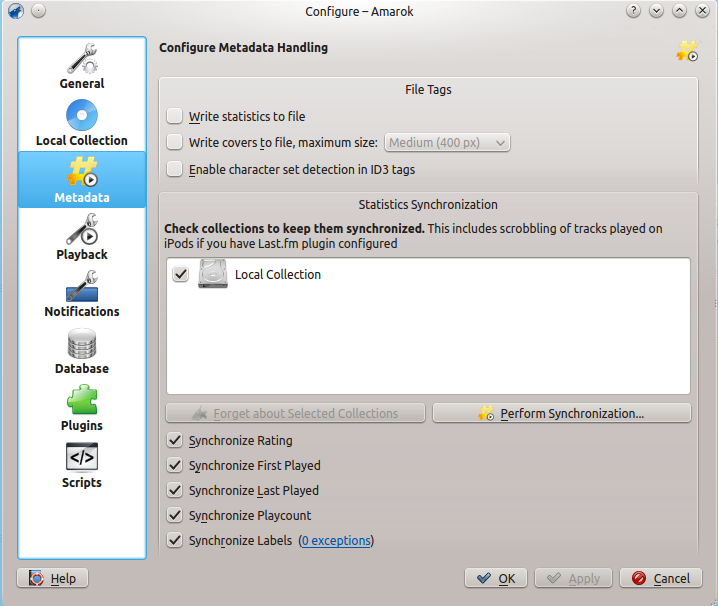 This dialog will allow you to configure the settings for metadata handling. This is a separate page starting with Amarok 2.7
Metadata options:
| Option | Tooltip |
| --- | --- |
| Write statistics to file | Check to write play-changing statistics as tags back to the audio files. |
| Write covers to file, maximum size... | Check to write changed covers back to the audio files. This will replace existing embedded covers. Select a value from the drop-down list to set the maximum size of the cover. |
| Enable character set detection in ID3 tags | If checked, Amarok will use Mozilla's Character Set Detector to attempt to automatically guess the character sets used in ID3 tags. If your tags are correct, it is more safe to leave this option turned off. |
This dialog will allow you to keep statistics of your collections synchronized. Make sure to only check collections between which you want to synchronize metadata.
Statistics Synchronization options:
| Option | Tooltip |
| --- | --- |
| Synchronize Rating | Check to synchronize ratings between collections. |
| Synchronize First Played | Check to synchronize first played dates between collections. |
| Synchronize Last Played | Check to synchronize last played dates between collections. |
| Synchronize Playcount | Check to synchronize playcounts between collections. |
| Synchronize Labels | Check to synchronize labels between collections. |