Scripts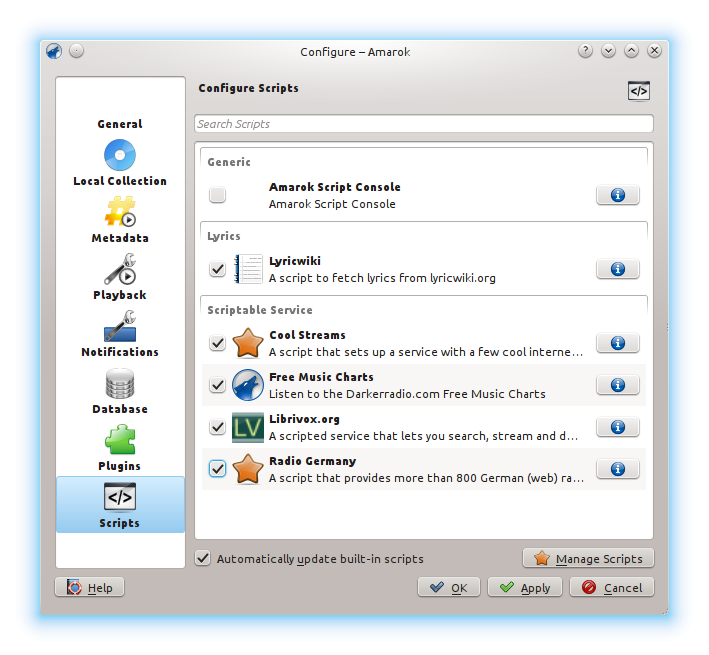 Script Configuration in Amarok covers Generic, Lyrics, and Scriptable Service scripts. Scripts are added in the Manage Scripts dialog.
Generic scripts add functionality to Amarok. The Amarok Script Console is available by default; other scripts which add CD burning, cover image storage, games, and many other choices are available. If installed, these scripts will show up in the Tools menu.
A variety of lyrics scripts are available; Ultimate Lyrics is provided by default. Your chosen lyrics scripts will provide the lyrics shown in the Lyrics applet in the Context pane.
Scriptable services, if enabled, will show up in the Internet Services in the Collections pane. Many collections of streams are available, in many languages, and from many sources.
At bottom of the configuration dialog are two options:
Automatically update built-in scripts
Automatically download and install updates for the built-in scripts from the Amarok website if available. Enable if you usually have a working Internet connections, and want your scripts automatically updated. This will not update user-supplied scripts from KDE-apps.org.
Browse, install and uninstall user-supplied scripts; also search, sort and rate the scripts in the Amarok Add-on Installer.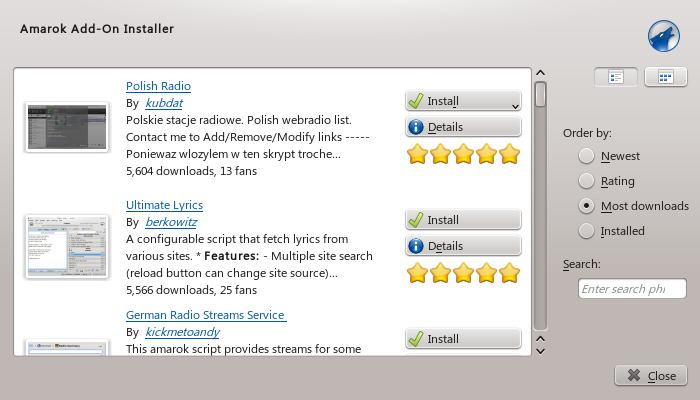 Using the Add-on Installer, one can install the latest user-contributed Amarok scripts. There are also options to search, sort and rate the scripts.
The Install Scripts and Uninstall buttons can be used to manage scripts. One can install script packages of type amarokscript.tar, amarokscript.tar.bz2, amarokscript.tar.gz
Learn more about a script using the

button.
A script can also be executed directly in the Amarok Script Console. This is activated by selecting the Script Console and confirm the selection by hitting either the OK or the Apply button. To deactivate the Script Console deselect it and confirm again.