CDDB Retrieval
The module CDDB Retrieval is divided in the Lookup tab and the Submit tab.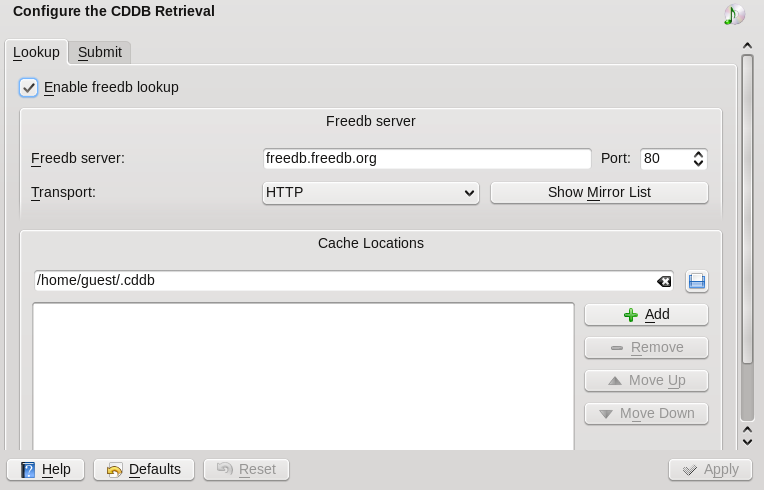 The Lookup tab sets up the CDDB functions of KDE.
You can select the options Enable MusicBrainz lookup or Enable freedb lookup.
The Freedb server section determines which CDDB mirror site is used by KDE to get album information. You can enter a server name, port number and protocol using the text boxes and drop down boxes or you can click the button. Clicking this button will open a new window with a list of CDDB mirrors and their locations. Simply select the server you want from the list and click .
The section labeled Cache Locations lets you determine where the CDDB information is saved on your computer. To add a folder, enter the folder location in the text box at the top of the section and click . You can also select a folder by clicking on the blue file folder to the right of the text box. To delete a folder, click on the folder name once with the mouse button and click . You can change the order the folders are searched by clicking on the folder name and clicking on the and buttons.
The button opens the this help contents page. The button restores the default values of all entries in this dialog; saves the current settings and exits; saves the current settings without exiting.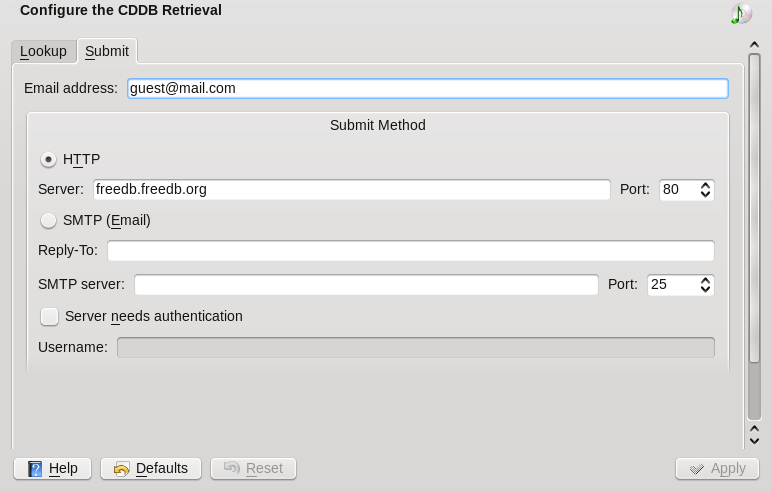 The Submit tab sets up connection to a mail server or a web server to submit new CDDB entries. This is useful if you do not have your own system configured as a server.
If you plan to submit a CDDB entry, enter your email address into the first textbox, then you must decide between submitting between HTTP and submitting the entry as an email (via SMTP).
Tip
It is simpler to submit new entries using HTTP. Some firewalls block this traffic. If your firewall prevents you from sending new entries using HTTP, you can use SMTP.
First select either HTTP or SMTP (Email) to determine which protocol to use.
You can enter a server name or port number in the text boxes provided. If you want to send this information to the international servers, you do not need to change anything.
To prepare to submit information using email, enter your email address in the text box labeled Reply-To:, your email server in the text box labeled SMTP server: and select the port number in the spinbox labeled Port:.
If you need to use a password to send email using the email server, place a mark in the check box labeled Server needs authentication and enter your username in the text box labeled Username.