Game Rules, Strategies and Tips
A card game contains one or more card decks of 52 cards each. Each deck contains the four suits:
| | |
| --- | --- |
| | Clubs |
| | Spades |
| | Hearts |
| | Diamonds |
Each of these suits contains the following card types: ace, two, three, four, five, six, seven, eight, nine, ten, jack, queen, and king.
This complete order of cards is called a family. There are real families and alternating ones. The real families are all of one suit (e.g. Hearts). In the alternating families the card color changes from one to another, between a black color (Clubs and Spades) and a red color (Hearts and Diamonds).
If the family is not complete it is called a sequence.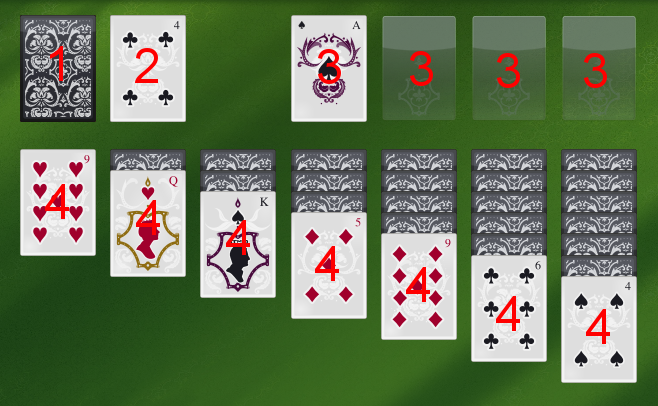 There are a number of features found in typical patience games. These are described below.
1. Talon

2. Waste Pile

3. Foundation

4. Playing Piles