The New Color Dialog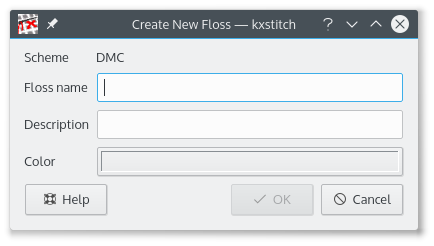 The dialog shows the name of the scheme that the new color will be added to. The color requires a name and a description, which can be anything you want, although color name will usually be defined by the floss manufacturer.
Clicking on the Color button will show a standard KDE color selection dialog. The initial color can be selected and then the parameters can be adjusted to give the correct color.
Once added this new color will be available to be included in your patterns palette via the Palette Manager dialog. It may also be adjusted by using the Floss Calibration dialog.