Using
KMyMoney
for the first time
Once KMyMoney has fully loaded two windows will be opened. The top window, 'Tip of the Day' offers one of a series of important or useful pieces of information about the application.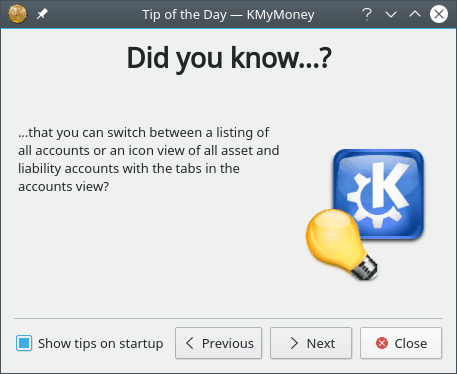 You are recommended to quickly read through these tips by pressing on the Previous and Next buttons at the bottom of the window.
Once you have read the tips the window can be closed; it will re-open each time KMyMoney is started. To stop this default behavior, uncheck the appropriate option on the Tip of the Day window.
Note
Tips can be read at anytime by selecting the Help → Show tip of the day menu item within KMyMoney.
All tips have been extracted from the Frequently Asked Questions list (FAQ) that provides more detailed help and can be found on the project website and in this manual.
Please click on Close to close the Tip of the Day dialog.
Note
When you run KMyMoney, it might not look exactly like the screenshots in this manual. Many details, such as fonts, colors, and icons, can be customized, either using the Settings → Configure KMyMoney... menu item or the KDE System Settings application, depending on your operating system.