KNetAttach
Walkthrough
This will be a quick walkthrough of the Network Folder Wizard. Don't blink or you might miss it.
Below you see the main window of the Network Folder Wizard. It is here that we choose what type of folder we want to add or connect to. For the purposes of this walkthrough we will be using FTP. It contains most of the options you will encounter while using the wizard.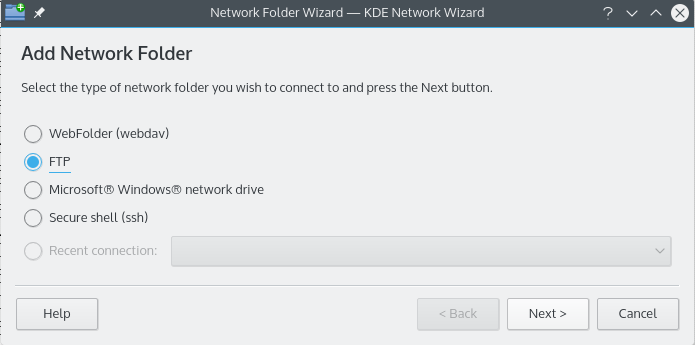 OK, so we (as in me) have chosen to add an FTP folder. Below you see an example of the type of information you will need to add for your particular FTP server. After filling it in we press Save & Connect and wait for the magic. Oh yes, if your server requires validation of some kind you will be prompted at this point before being allowed to connect.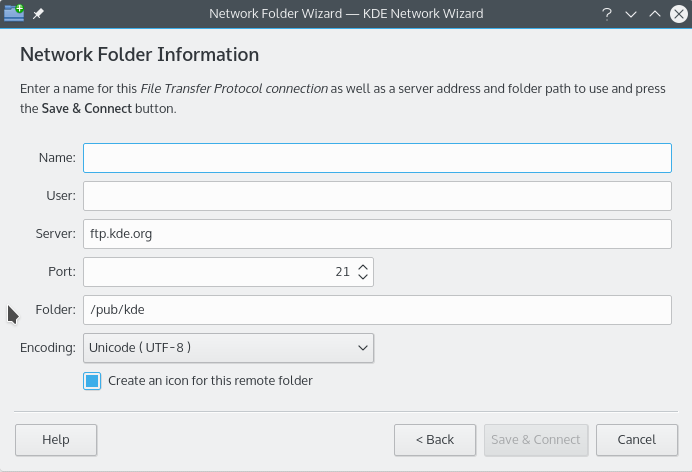 So now we are all connected now and able to navigate our newly added share. Joy!
To get back to our network folders all that is necessary is typing remote:/ in the location bar of Konqueror or Dolphin or select Network from the Places panel.

You can even add new folders from the same location by using the Add a Network Folder link. Well that brings us to the end of our walkthrough (told you it would be quick). I wish you the best of luck in your own network folder adventures ;-)