Folder View Display Style
The following settings control how the contents of a folder are displayed in the Dolphin view, and are stored on a per-folder basis by default:
The view mode (Icons, Compact, Details)

The sorting of items, which is determined by the sort order (ascending, descending) and the attribute (such as name, size,...) that the items are sorted by

Sorting of folders and files – are folders shown first or not?

Previews – are they shown instead of icons (based on the settings made in Previews tab of Dolphin's General settings) or not?

Are items shown in groups in the views?

Are hidden files shown?

What additional information (besides the name) is shown in the Icons or Details view?
The view display style can be configured in the View menu, some (such as the view mode) can also be changed using toolbar buttons.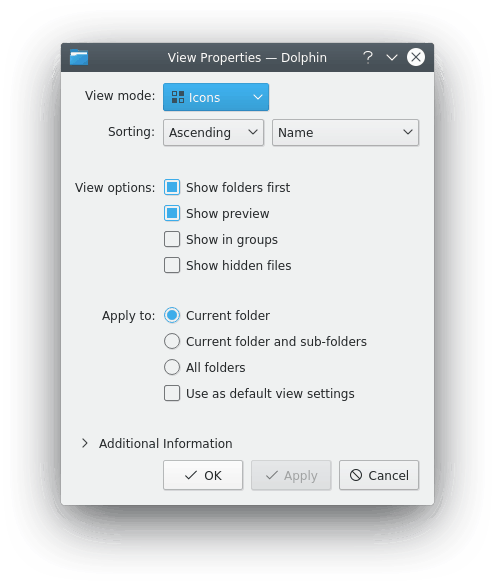 The View Display Style dialog can be used to quickly modify the view display styles for many folders at once. This is done for the current folder, for the current folder including all subfolders, or even for all folders, depending on the choice made in the Apply to section.
If Use as default view settings is enabled, the chosen view properties will also be used for all folders which do not have customized view properties yet.