Using
Klipper
---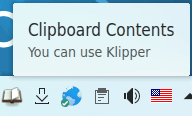 ---
To display the clipboard history, click on the Klipper icon in the KDE panel, or press Ctrl+Alt+V. Previous clipboard entries are shown at the top of the popup menu which appears. Selecting one of these copies it to the clipboard, from where it can be pasted into any KDE or X application as usual.
Note
The shortcut for this action has to be configured in the System Tray Settings on the Entries page.
You can search through the clipboard history by opening it (click on Klipper) and typing your query. The results are updated as you type. In case you're wondering how to use the accelerator keys in the Klipper menu, just press Alt and the accelerator you want. For example, to clear the clipboard history when the Klipper menu is open, press Alt+L.
To disable Klipper, click on its icon and from the menu that appears, select Quit.