Guía de inicio rápido de
Marble
: Navegación
Here is Marble the first time you run it, either with Applications → Education → Marble (Desktop Globe) from the Menú K or with Alt+F2 and entering marble into the field.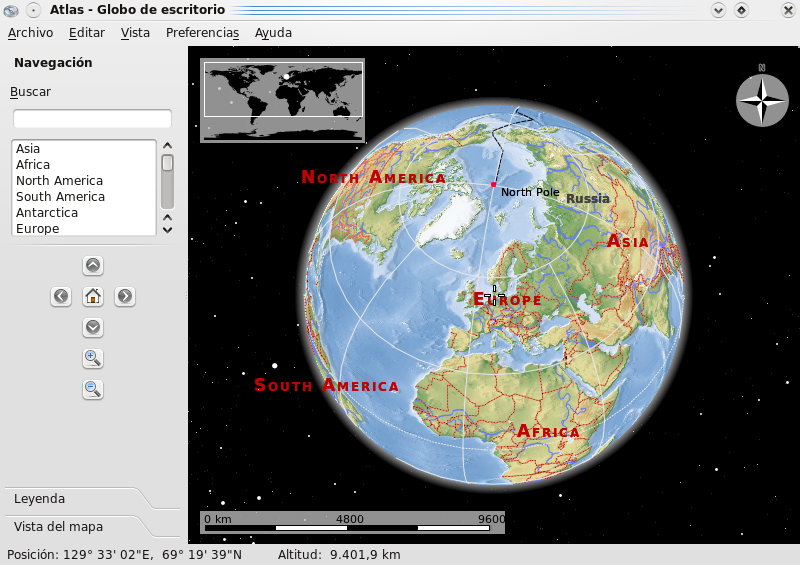 On the right you can see a topographical map of our beautiful home planet. To allow for better orientation the map offers a scale bar in the lower left corner as well as a windrose on the top right. To navigate and to control the view you can use the tools on the Navigation info box at the right: Press the arrow buttons to rotate the globe. The Up and Down arrow buttons will tilt the earth axis back and forth. The Left and Right arrow buttons will make the earth spin around its physical axis.
Puede conseguir el mismo comportamiento pulsando con el botón izquierdo del ratón sobre cualquier lugar del globo y moviendo el ratón (manteniendo siempre pulsado el botón izquierdo del ratón). Este modo de navegación, es decir, arrastrando y soltando el botón izquierdo del ratón, le permitirá ajustar el ángulo de visión de un modo mucho más fácil y preciso. Las teclas del cursor de su teclado le ofrecen un modo alternativo para cambiar de dirección con rapidez.
Zoom in and out by moving the vertical slider up and down. If your mouse has got a mouse wheel you can use that one instead - or you just hold the botón izquierdo del ratón and the botón derecho del ratón down both at once while moving the mouse up and down. Changing the zoom level step by step can be done via the Zoom In and Zoom Out buttons which are placed above and below the zoom slider (or using the + and - keys on your keyboard).
Dependiendo de la resolución del mapa, la ampliación le proporcionará un mayor detalle. Aparecerán las ciudades más pequeñas y, si usa el mapa topográfico, notará que las líneas costeras están dibujadas usando gráficos vectoriales.
In case you should get lost you can always reset the viewing angle and zoom level back to the point where we started off: Just hit the Home button (or the Home button on your keyboard). To set the home location to the current position (center of the map) click on Set Home Location in the Bookmarks menu.
Si pulsa en la barra de estado con el botón derecho del ratón aparecerá un menu que le permitirá personalizar la apariencia de la barra de estado. Puede hacer que se muestre la posición, la altitud, el nivel de ampliación de las cuadrículas y una barra de progreso mostrando el estado de la descarga de los datos del mapa.