Annotations
Okular allows you to review and annotate your documents. Annotations created in Okular are automatically saved in the internal local data folder for each user. Okular does not implicitly change any document it opens.
---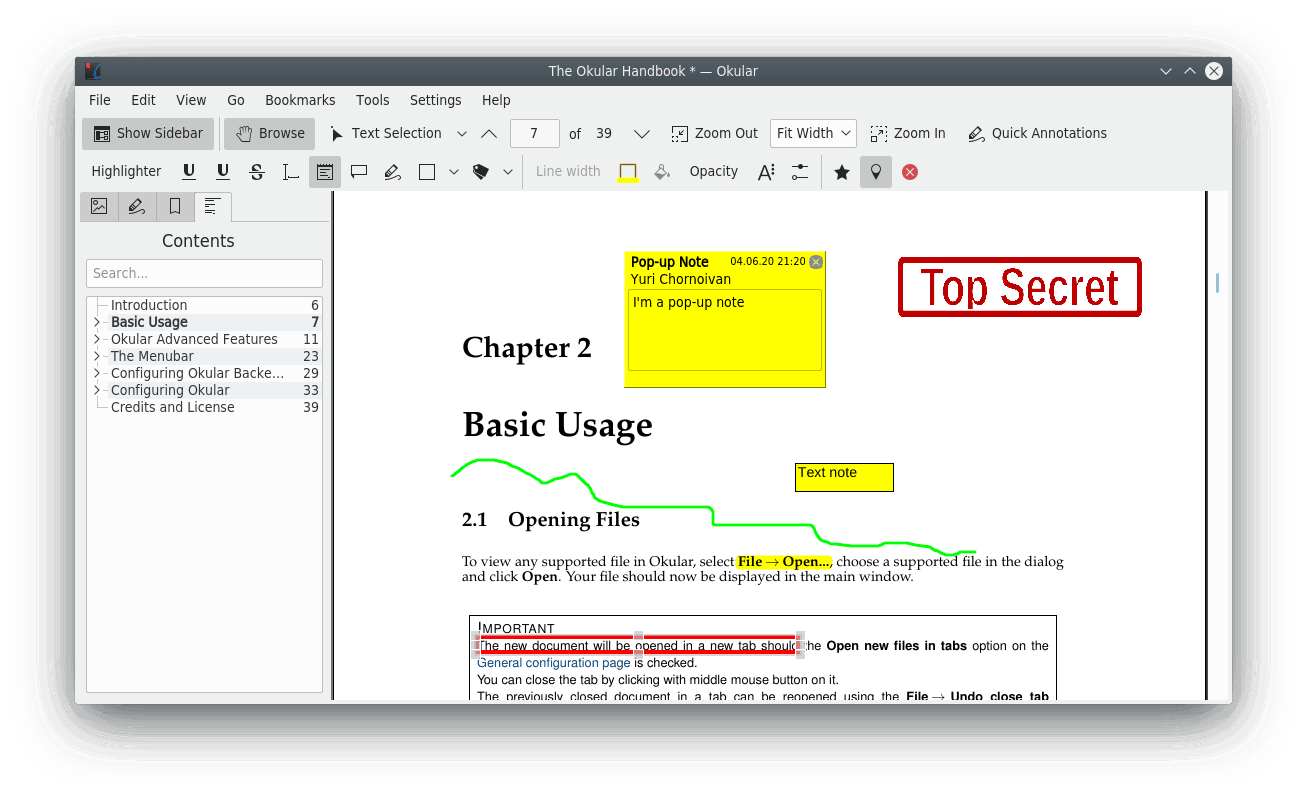 ---
Okular has two different kind of annotations:
Text annotations like Yellow Highlighter and Black Underlining for files with text like e.g. PDF.
Graphic annotations like Note, Inline Note, Green Freehand Line, Straight Yellow Line, Blue Polygon, Stamp and Cyan Ellipse for all formats supported by Okular.
Using the context menu either in the Reviews view of the navigation panel or in the main window you can open a Pop up Note for any kind of annotation and add or edit comments.
Annotations are not only limited to PDF files, they can be used for any format Okular supports.
Since KDE 4.2, Okular has the "document archiving" feature. This is an Okular-specific format for carrying the document plus various metadata related to it (currently only annotations). You can save a "document archive" from the open document by choosing File → Export As → Document Archive. To open an Okular document archive, just open it with Okular as it would be e.g. a PDF document.
Since Okular 0.15 you can also save annotations directly into PDF files. This feature is only available if Okular has been built with version 0.20 or later of Poppler rendering library. You can use File → Save As... to save the copy of PDF file with annotations.
Note
It is not possible to save annotations into PDF file if original file was encrypted and Okular uses Poppler libraries of version which is lower than 0.22.
Note
If you open a PDF with existing annotations, your annotation changes are not automatically saved in the internal local data folder, and you need to save the modified document (using File → Save As...) before closing it. Should you forget to do this Okular will show confirmation window that allows you to save the document.
Note
Due to DRM limitations (typically with PDF documents), adding, editing some properties or removing annotations could not be possible.
To add some annotations to the document, you have to activate the annotating toolbar. This is done by either selecting Tools → Review or pressing F6. Once the annotating toolbar is shown, just press one of its buttons to start constructing that annotation.
With a single left mouse button click on an annotation tool button you can use a tool once. If you e.g. want to highlight all important parts of a text, activate that tool permanently by double clicking on the tool button. Press the Esc key or click the tool button again to leave the permanent mode.
Note
The annotating toolbar can be docked in any side of the viewing area: just drag it to move it to another place.
Note
Activating the annotating toolbar will make you switch to the Browse Tool Mode.
You can stop the construction any time by pressing again on the button of the annotation you are constructing, or by pressing the Esc key.
The newly constructed annotation will have as author the author you set in the Identity page in Okulars configuration dialog.
Note
Using stamps a single click just places a square stamp (useful for icons). To add a rectangular stamp you can click with the left mouse button and hold to place the top-left point, then drag to place the bottom-right one.
To remove an annotation, just click on it with the right mouse button, and select Delete.
When removing the annotation, its window will be closed if open.
Note
This option could not be enabled because the document does not allow removing annotations.
To edit an annotation, click on it with the right mouse button and select Properties. A dialog will appear with the general annotation settings (like color and opacity, author, etc.) and the settings specific to that annotation type.
---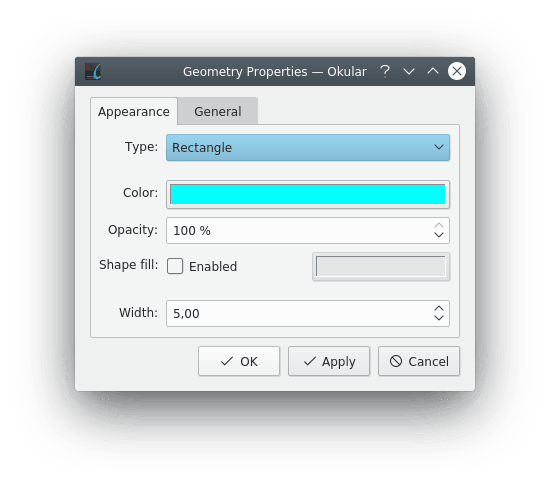 ---
To move an annotation, hold down the Ctrl key, move the mouse pointer on it and then start dragging with the left mouse button.
Note
Depending on the document permissions (typically with PDF documents), some options can be disabled.