View Mode
View Mode displays full-size images. The same sidebar available in Browse Mode is displayed on the left. At the bottom, there is the Thumbnail Bar, which allows you to scroll through the images in the current folder. The Thumbnail Bar can be minimized by clicking on the Thumbnail Bar button. Clicking again will restore it. To change the size of the thumbnails move the splitter with the left mouse button.
View Mode supports viewing multiple images side-by-side. You may select multiple images in Browse Mode before switching to View Mode, or you may click the + button that appears when hovering over images in the Thumbnail Bar to add a pane displaying that image. A - will then appear that will permit you to remove its pane.
When multiple images are displayed, a small toolbar appears below each image that permits you to delete the image or remove its pane. You may perform zoom operations independently for each image, or synchronize them. Toggle this by checking the Synchronize to the left of the zoom slider or by pressing Ctrl+Y. You can switch images by clicking on their pane, or using your keyboard. To switch to the image on the right, press Tab. To switch to the image on the left, press Shift+Tab.
---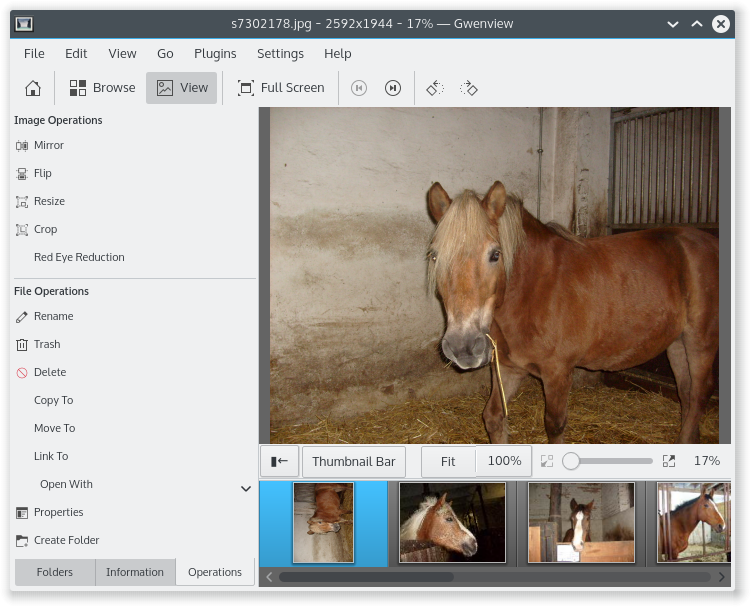 ---
The slider at the bottom right controls the zoom of the image. The Fit button and the 100% button are next to the zoom slider and are two preset zoom levels. The Fit button zooms the current image to fit the size of the window, and the 100% button zooms the image to the actual pixel size. The shortcut F toggles between both view modes.
When an image is in zoom-to-fit mode, you can go to the previous and next image with the arrow keys. When you zoom in, arrow keys are used to scroll the image. This is very similar to the behavior provided by phones or digital cameras.
When an image is zoomed in, a bird-eye view appears and lets you scroll the image using the mouse and the arrow keys. The bird-eye view automatically hides itself after a short delay, showing back only while zooming or scrolling.
Tip
You can start directly in View mode by starting Gwenview from a context menu like Open With in another program or by launching it from the command line with an image as an argument.
The following additional image operations are available only in View Mode:
Edit → Crop (Shift+C): This operation lets you discard parts of the image you don't want.

Edit → Red Eye Reduction: This operation reduces the "red eye" effect commonly found in photographs taken with a flash camera.