The Tutor Mode
KWordQuiz can be started in the Tutor mode. In this mode application pops up words in the chosen vocabulary randomly at certain time intervals. To start KWordQuiz in the Tutor mode press Alt+F2 and enter kwordquiz -g tutor vocabulary_file.kvtml. The part with vocabulary_file.kvtml can be omitted.
---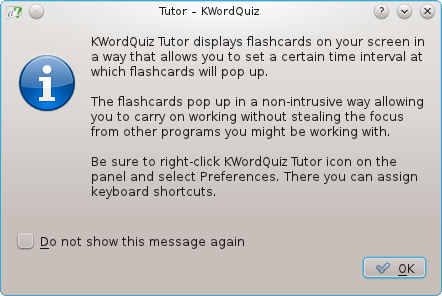 ---
After pressing OK button, KWordQuiz continues to work in background. You can control KWordQuiz using tray icon

menu (it can be opened with right mouse button click on the icon).
There are four items in this menu:
Start the Tutor exercise.

Open an existing vocabulary document.

Open the Tutor configuration dialog.

---

---

Using the Tutor Settings page you can configure time intervals between the flashcards changes, flashcard appearance, and choose the option to Start exercise as soon as the user opens vocabulary file.

In the current version, you can choose between Native and Minimalistic flashcard appearances.

---

---

---

---

---

---

Using the Shortcuts Settings page you can configure shortcuts for the Tutor actions. The defaults are Ctrl+Alt+J for the closing and Ctrl+Alt+H for the flipping of the flashcard.

Quit KWordQuiz.